Asbestos Abatement
Ohio Technical Services, Inc. (OTS) has been the company of choice by utility companies, industrial clients, demolition contractors, and governmental agencies to provide asbestos abatement on an emergency response and on-call basis. Some of the clients that OTS has assisted include:
American Electric Power
Owens Corning
Wright Patterson Air Force Base
CASTO
As a result of improvements and upgrades made to electrical power lines and facility utility services, OTS has been called to provide asbestos abatement services to clients that required rapid response to short term issues. Many times, when contractors have come across suspected asbestos containing materials during demolition or construction activities in a building, OTS has been called to assess the situation and abate these materials so that the job activities could continue.
OTS, through the emergency response services provided, has allowed many utility companies, contractors, building owners, and other clients stay on schedule and ensured that significant delays associated with the abatement of asbestos containing materials do not impact the overall project or the well being of the general public.
Water Extraction
OTS has assisted several commercial clients with the extraction of water from the basements and the lower levels of their buildings. OTS has offered this emergency response service to these clients for several years.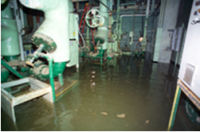 Since OTS is equipped with the necessary equipment for the emergency de-watering activities, the response time to these clients is minimal.
We have completed the de-watering activities for the following clients:
Mt Carmel Hospital
Grant Hospital